Tis the season! As I sit in my living room and bask in the glow of my trimmed Christmas tree, I can't help but feel the warmth and joy of the season!  I am currently working on a knit scarf for my hubby (who knows if it will be done by Christmas) but I hope it will!
I wanted to share some of my Holiday-themed items with you from my shop! These ornaments make wonderful gifts for the maker friends in your life!

Here are some popular ornament selections from my shop.
Want to design your own ornaments from scratch? You can do that here!
In addition to ornaments, I also have some festively fun cards to send to your maker friends! These shiny foil ones are kind of my favorite! They come in both silver and gold.

We can't forget holiday stockings! Zazzle has some great design your own options, and I have some just for makers in my shop!
Zazzle even has Artisan made custom stockings available, like this one by Merry Stocking.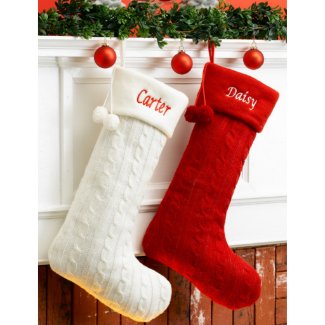 Charming White Cable-Knit Christmas Stocking

One of my top items during this busy time of year for makers are gift tags! Custom gift tags for your handmade shop can really add those final touches to making your shop really shine! You can customize the front and back, or leave the back blank if you have an array of different items in your shop.
I hope you have a wonderful holiday season and wish you well into the New Year!
Thank you for checking out my post!